In the News
A Utah law improves access to birth control — here are easier ways to get it, even without insurance
By Liesl Nielsen, KSL.com
SALT LAKE CITY — A new Utah law that went into effect in May of last year allows participating pharmacies to prescribe patients birth control under something called a "standing order."
About five months ago, the executive director of Utah's Department of Health, Dr. Joseph Miner, signed a statewide standing order that now officially permits pharmacists to undergo training and begin prescribing birth control to patients — no doctor visit necessary.
Some pharmacies, however, felt the statewide standing order required patients to check in too frequently before obtaining a continuous prescription. They decided, instead, to create their own independent standing orders under the state's new law and can now also prescribe birth control without the state's additional regulations.
In March, Miner said he believed the standing order would help people who don't have the time or money to regularly see a doctor access birth control.
But the process can still be a little convoluted. We'll walk through that process so you know what to expect, but first let's take a look at some less complicated alternatives.
If you're uninsured, underinsured or purely fed up with complicated processes, here are some cheap and simple ways to get contraceptives — even without insurance.
If you like to shop online: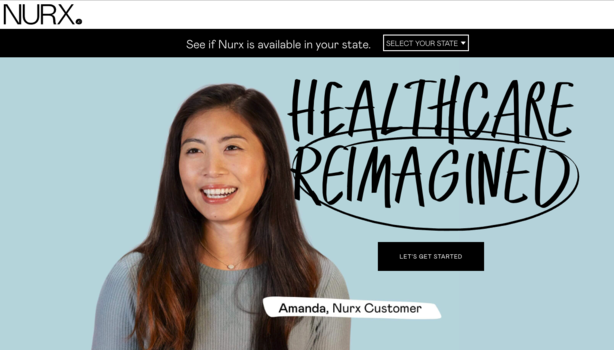 Nurx is an online, one-stop birth control shop that ships inexpensive birth control to your door, even if you don't have insurance.
To get started, you'll answer a couple of health-related questions and pay for a $12 online medical consultation, which includes unlimited messaging with the team for one year. You will need to pay for another consultation every year when your prescription is up for renewal. Nurx does not submit claims to insurance for the consult fee.
After the medical team prescribes a contraceptive, Nurx will automatically ship your prescription to your door until your next consultation a year later — unless you cancel renewal. You can use insurance to pay for the contraceptives, or Nurx offers birth control brands that start as low as $15 per month.
Nurx only works in select states — and Utah is one of them.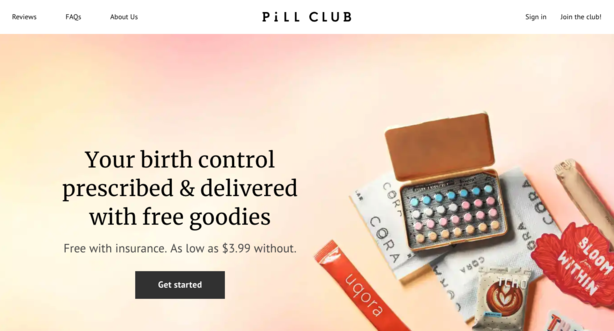 The Pill Club is very similar to Nurx.
You can transfer your existing birth control prescription to The Pill Club or get a new one after a $15 online medical consultation. The company will then ship your contraceptives to your door (with fun, little gifts like stickers and chocolates) every few months for as little as $20 for a 3-months' pack, depending on the brand. If your insurance covers birth control, you can use that to pay for the contraceptives.
You can keep in touch with The Pill Club team via text or phone.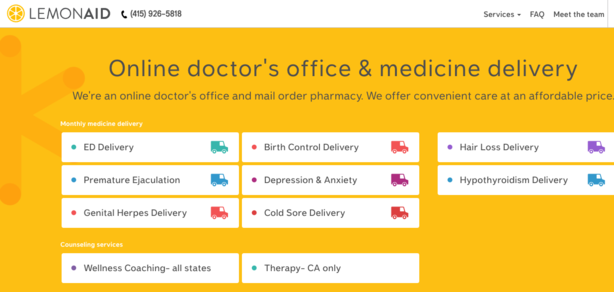 LemonAid Health offers a variety of monthly medicine delivery, including birth control.
A doctor can prescribe you a year's supply of birth control after a $25 consultation, and the contraceptives are shipped to your door within two to three business days. They come three packs at a time at $15 a pack or you can use insurance to pay.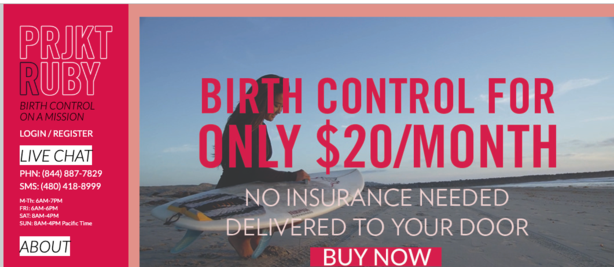 PRJKT RUBY delivers birth control to your door for $20 a month — no insurance necessary.
Just pick a type of birth control from the list on the company's website, complete a free, online medical consultation and checkout. It's pretty simple, actually.
Just remember, though, that these online medical consultations are mainly designed for prescribing birth control. They can't replace a visit to a gynecologist or women's health care professional for other concerns. It's often important to check in with a professional in person.
If you want to see someone in person: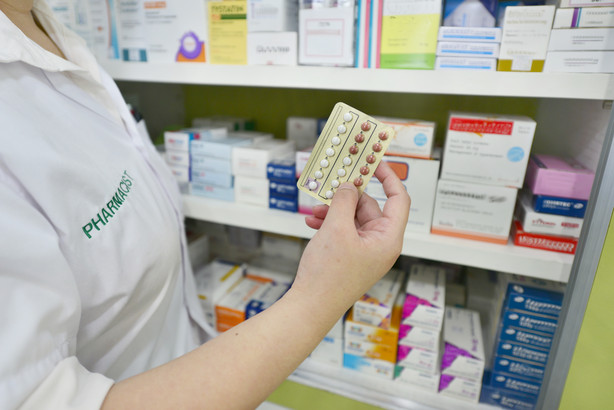 If you're over 18, you can now go into a pharmacy, fill out a health history form, have your blood pressure taken, talk with a pharmacist, then walk out with birth control pills, contraceptive patches or vaginal rings.
But the process can be a little confusing from there.
If a pharmacy is participating under the state's standing order, you will receive one month's supply of contraceptives then will need to check in with the pharmacist a month after the initial consultation so they can ensure everything is working well.
The pharmacy will then give you two months more of contraceptives, and you'll need to check in again after those two months to continue receiving birth control. You will also need to provide proof of a visit to a women's health care provider every two years.
If a pharmacy is participating under an independent standing order, however, the number of required consultations may vary, but you'll generally need to go in for only one consultation before receiving birth control for a year.
Major pharmacies participating with the state include Smith's and Costco, while other pharmacies participating independently include select Harmon's, Fresh Markets, Macey's and Dan's. Over 300 independent pharmacies have also signed up to participate, according to Laurie Baksh, manager of the Utah Department of Health's Maternal and Infant Health program.
There is no "master list" of participating pharmacies yet, but birthcontrolpharmacies.com provides a somewhat complete map. Baksh hopes to get a list up soon that will include all pharmacies participating with the state. In the meantime, you can call the Department of Health at 801-273-2871 or call your nearest pharmacy.
If you don't have insurance, the price of the initial consultation is about $35 to $45 but varies depending on the pharmacy. Pharmacies participating with the state may also charge for any additional consultations. You must also pay for the contraceptives out-of-pocket or with insurance.

Paying for contraceptives out-of-pocket can be expensive, though. Even if your insurance pays for a doctor visit, you may still be forking over a lot of money for the medication your doctor prescribes.
Enter, Good Rx.
GoodRx is a website and app with coupons for medication. You can search for your brand of birth control and find coupons that will work at nearby pharmacies. Though prices may vary, a three-month prescription of the popular pill Sprintec can currently be found for as low as $20 at Smith's.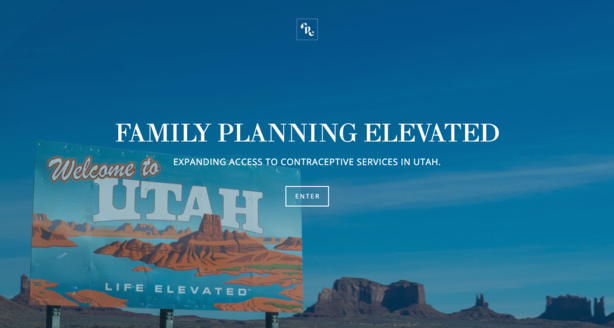 Family Planning Elevated is an organization in Utah that seeks to provide services to uninsured, underinsured and undocumented patients. Depending on your household income level, you can receive a whole host of contraceptive methods and services free of charge.
The downside? There are only three clinics in Ogden, Midvale and Price.
Check to see if you qualify for free services at fpeutah.org.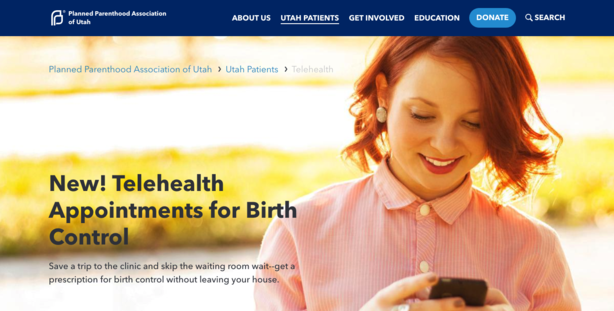 Early last week, Planned Parenthood affiliates across the country decided to pull out of a low-income family planning program known as Title X rather than comply with a new rule from the Trump administration that prohibited program grantees from referring patients for abortion, except in cases of rape, incest or medical emergency.
The Planned Parenthood Association of Utah also elected to leave the program and will lose about $2 million in funding, or 16% of its revenue, each year as a consequence. It's still unclear how drastically this will affect the organization, which offers low-income and uninsured women a wide range of family planning services. While things are changing, you can still get relatively cheap birth control from the organization.
If you don't want to leave your house, you can schedule a telehealth appointment where you'll connect with a Planned Parenthood health care provider via video chat. They can help you figure out your ideal contraceptive method, and pills can be prescribed over chat and delivered to your door or filled at a local pharmacy.
Without insurance, the telehealth appointment costs $34, and the pills by mail cost $18 a month. Going into the clinic may reduce the cost, and you can receive other affordable reproductive health care services, too.
Read the original article on KSL's website
Share This Story, Choose Your Platform!